The Quaboag Trading Company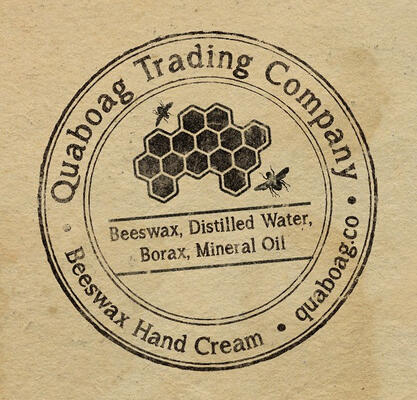 The Quaboag Trading Company is a small market garden and apiary located in Western Central Massachusetts. We bring honey, eggs from our happy chickens to market and veggies and herbs when available.Our Flagship product, beeswax hand cream is actually an all-body cream. That was not planned, but our customers told us about all the uses that it has been put to. It has clearly gotten out of hand.We make it in two-ounce jars and send it all over the country by mail order.
Testimonials
Testimonial received 12/22/2016:
"I first purchased the Quaboag Trading Company beeswax at the Amherst Farmers Market. I loved it. I used it to moisturize my face and hands and also to treat a little eczema that I had on my hands and feet. It worked great for everything that I used it for. I think it made my eyes and hands look much better and also soothed and healed the eczema on my hands and feet. This was in September, when eczema usually gets worse, not better. I recently ordered more of the product online and it arrived in two days. I don't ever want to be without it. I think it is the best product I have ever tried. Also, for what you are getting, the price is very reasonable. I can't thank Quaboag Trading Company enough."
Sunderland, MA
---
From Terry Jackson:
"Your hand cream travelled to Egypt and Italy and Hawaii. In such dry weather your hand cream often became face cream too."
---
Another customer:
"I have been using Beeswax hand cream for several years now and I love it. My skin is very dry and the backs of my hands often look a lot like crinkled tissue paper. They look like hands belonging to an old lady, not to me. I just have to apply a thin coat to my hands and they look like my hands again. I also apply a little extra to the cuticles and callouses on the hand and on any other trouble spots that need special care. After a few minutes the cream is all absorbed into the hands leaving them soft not greasy. Lately I have also been applying it to some of the more wrinkled areas on my face. It helps to soften the wrinkles and leaves my skin looking younger."
---
From Rose:
"Just a note to let you know how much we enjoy the Beeswax hand cream. At age 96, almost near 97 soon – it's very nice to have this cream My skin looks much better.
Best of luck.
Rose"
---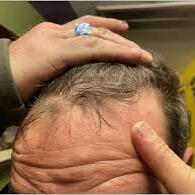 From Rick:
"Dear Quaboag Trading Company,
I am writing this letter because I promised I would if your Beeswax Hand Cream worked on my psoriasis, AND IT DID!! I have had psoriasis for decades and nothing has worked to reduce/eliminate inflammation. On my forehead, behind my ears and above my ears on my scalp the inflammation has been extreme- dry cracked skin and bleeding was the norm for me. Since I bought your Beeswax Hand Cream last summer at the Amherst Farmers Market I have been free of inflammation due to psoriasis. I waited almost a year to write this letter because I have used products that worked but only briefly. I just ordered a six pack of your product and plan to give some to a friend who suffers as I have.God Bless You and THANK YOU!!
Sincerely
Rick Robinson"
---
About The Quaboag Trading Company
We moved to West Brookfield, MA in 1989. Since then, we've raised livestock, grown vegetables in a large garden, and kept many hives of bees. You can find our products for sale at the Amherst Farmers Market and the Winter Farmers Market at the Hampshire Mall. Hand Cream is can be purchased through this website.